Sir John Sawers says theory that rogue Saudi military officers were responsible is 'blatant fiction'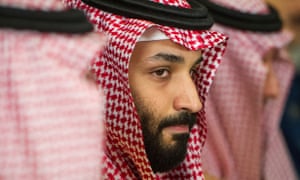 Saudi Crown Prince Mohammed bin Salman. Photograph: Cliff Owen/AP
A former head of MI6 has said all the evidence suggests Saudi Arabia's Crown Prince Mohammed bin Salman was behind the death of the journalist Jamal Khashoggi, and that the theory that rogue elements in the Saudi military were responsible was "blatant fiction".
Sir John Sawers told the BBC his assessment was based on conversations with senior Whitehall sources and his knowledge of the Turkish intelligence services.
The comments came after Donald Trump said he presumed Khashoggi, a Washington Post columnist, was dead and that the consequences for Saudi Arabia would be "very severe" if its leaders were found to have ordered the dissident journalist's killing.
Sawers, who was head of the British secret intelligence service until 2014, also claimed that the crown prince would only have acted if he believed he had licence from the White House to behave as he wished.
"I think President Trump and his ministerial team are waking up to just how dangerous it is to have people acting with a sense that they have impunity in their relationship with the United States," Sawers said.
"If it is proven, and it looks very likely to be the case, that [Prince Mohammed] ordered the killing of the journalist it is a step too far – one that the UK, the EU and the US are going to have to respond to."