Infections top 64,000: Mainland China has recorded 5,090 more cases of the novel coronavirus, under its new broader definition, bringing the global total to 64,435. The death toll from the coronavirus has now risen to at least 1,383.
Death toll revised down: Earlier higher numbers of reported infections and deaths were revised down by China's National Health Commission after duplication was discovered in data collection and recording.
Leadership shakeup: Several top Chinese officials were removed from their posts Thursday, including the Communist Party chiefs of Hubei and Wuhan, in a show of Beijing's dissatisfaction with the local response to the crisis.
Global spread: There are at least 585 confirmed cases of coronavirus in more than 25 countries and territories outside mainland China. A Japanese woman in her 80s is the third person to die of the virus outside mainland China.


---
China's coronavirus numbers highlight the challenges of an evolving epidemic
When China reported a drop in the number of new cases of the deadly coronavirus earlier this week, hopes were raised that the outbreak might be slowing down.
But on Thursday, health authorities in Hubei, the province at the center of the epidemic, announced there had been nearly 15,000 new cases overnight — almost 10 times the number of cases announced the previous day.
The government was quick to point out the outbreak didn't suddenly get much worse; the authorities had simply changed the way they reported cases in order to allow more people to access treatment faster.
"Our forecast was 1,500 new cases, and I opened my computer and it's 15,000 new cases. I think my hair stood up on my head," said David Fisman, a professor of epidemiology at the University of Toronto, who has spent a lot of time modeling the current coronavirus epidemic.
The shift in how new cases are diagnosed has compounded questions about whether the world can rely on the numbers coming out of China, amid criticism over the government's handling of the outbreak.
Read more here
Eleven passengers from the coronavirus-stricken Diamond Princess cruise ship will be moved to shoreside quarantine facilities, the vessel's captain told passengers this afternoon.
Diamond Princess Captain Stefano Ravera announced that those passengers who have met the criteria of the Japanese Ministry of Health for being at high risk if infected with novel coronavirus will disembark from the ship on Friday afternoon.
The audio recording of the announcement was sent to CNN by a passenger from Oregon called Kent Frasure.
So far, dozens of people onboard the ship have tested positive for the virus, the largest outbreak outside of mainland China. Japanese health officials have been testing hundreds of crew and passengers for a week now, as the ship remains under tight quarantine.
In a show of displeasure from the very top of the Chinese Communist Party, two high-profile local officials at the epicenter of the coronavirus outbreak were purged from office on Thursday.
State media announced Thursday that the Communist Party chiefs of Hubei and Wuhan would be replaced with Ying Yong, former Shanghai mayor, and Wang Zhonglin, former party secretary in Jinan.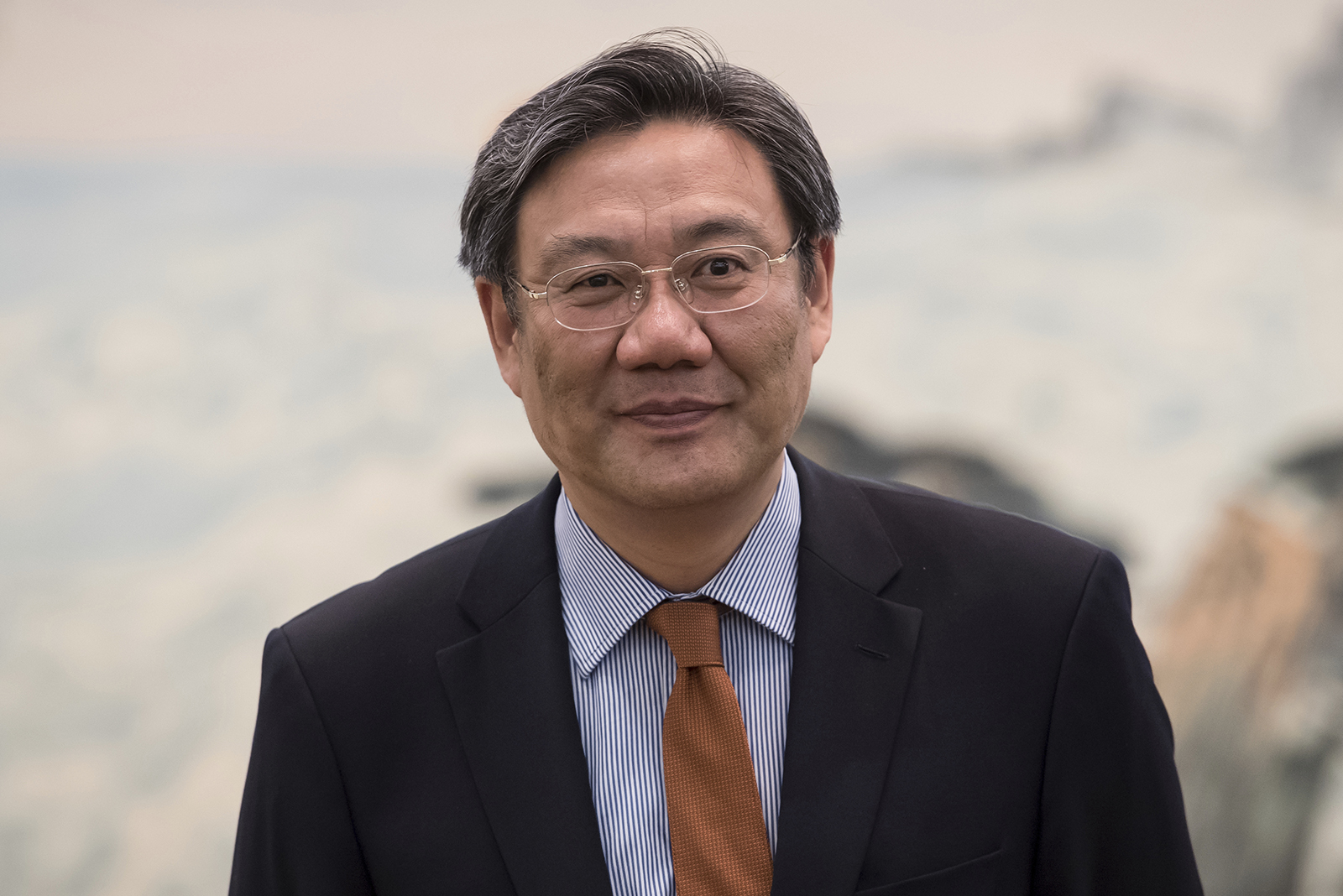 Wang Zhonglin in Jinan, China, on May 11, 2017. Sven Hoppe/picture-alliance/dpa/AP Images
---
It isn't the first removal of officials since the devastating outbreak of the coronavirus in the city of Wuhan.
The Hubei Provincial Health Commission's party secretary and its director were both fired on Tuesday, according to state broadcaster CCTV.
Far from Hubei, the former head of the Hong Kong and Macao Affairs Office, Zhang Xiaoming, was demoted to deputy and replaced with a former protege of President Xi Jinping.
All the appointments show Beijing's disappointment with how major crises, such as the Hong Kong protests and the coronavirus outbreak, have been handled at a local level.
Read more here
For many Chinese people stuck in their homes either by quarantine or lockdown, one of the biggest questions they face is: how to pass the time?
As the coronavirus epidemic shows little signs of passing, some are turning to computer games to keep themselves entertained during the long wait.
During the Lunar New Year holiday that falls in January or February annually, gamers in China usually have more time to play games anyway.
But this year, following the coronavirus outbreak, authorities decided to extend the holiday by almost three weeks in many places, leaving millions of people with a lot of time to fill.
"The evenings are empty, and I have free time. So at night, I'll play 'Peacekeeper Elite' with friends," said 24-year-old construction worker Yang Zhanchao. "We'll set a time to log on and play together."
Tencent's mobile game, "Honor of Kings," hit a new all-time high in daily average users during the week of January 30, according to Niko Partners, a research firm that focuses on the gaming industry in Asia.
"We attribute most of the increase to the impact of the novel coronavirus which led to more gamers staying at home instead of traveling or socializing outside of the home, allowing more time to play games," Niko wrote in a report.
Read the full article here.
The novel coronavirus has spread throughout the world since the first cases were detected in central China in December.
There are now at least 585 confirmed cases of the virus in 27 countries and territories outside mainland China:
Australia (at least 15 cases)
Belgium (at least 1 case)
Cambodia (at least 1 case)
Canada (at least 7 cases)
Finland (at least 1 case)
France (at least 11 cases)
Germany (at least 16 cases)
Hong Kong (at least 53 cases, 1 death)
India (at least 3 cases)
Italy (at least 3 cases)
Japan (at least 31 cases, 1 death + 219 in cruise ship quarantine)
Macao (at least 10 cases)
Malaysia (at least 19 cases)
Nepal (at least 1 case)
Philippines (at least 3 cases, 1 death)
Russia (at least 2 cases)
Singapore (at least 58 cases)
South Korea (at least 28 cases)
Spain (at least 2 cases)
Sri Lanka (at least 1 case)
Sweden (at least 1 case)
Taiwan (at least 18 cases)
Thailand (at least 33 cases)
United Arab Emirates (at least 8 cases)
United Kingdom (at least 9 cases)
United States (at least 15 cases)
Vietnam (at least 16 cases)
Read more about the patients in each place.
Mothers across Hong Kong are giving birth alone as public hospitals in the territory are banning partners from labor wards in a bid to contain the coronavirus outbreak.
Dee Cheung, 34, a Canadian-born Hong Kong resident, gave birth to a baby girl at 6 pm on Monday, January 27. She found out her husband wouldn't be allowed into the delivery room — or the labor ward to meet the baby afterward — when she arrived at the hospital.
"He was pretty bummed … but I thought there's not much he can do anyway," Cheung said, adding that she understood why the decision had been taken. "It would have been nice if he could have been with me to rub my back. But honestly it was fine."
Sandra Marco Colino, 42, a Spaniard who has lived in Hong Kong for 10 years, gave birth via a planned C section at 37 weeks, as she had placenta previa, which can cause severe bleeding during delivery.
Because her baby girl was just 2.2 kilograms at birth, she had to go to the Special Care Unit at the Prince of Wales Hospital. While Hong Kong battles the coronavirus outbreak, all parents have been banned from the unit to protect the most vulnerable babies from infection, meaning Colino and her husband didn't meet their daughter until she was six days old.
"I felt nervous having to go through the procedure on my own, and my partner was devastated to have to miss his daughter's birth. We did understand though that public safety comes first," she said. "There was an eerie quietness everywhere in the building which I had never witnessed in a local public hospital before."
Colina added that nurses took photographs of their baby in the Special Care Unit and would give them to her husband every day as an update.
Veronika Kloub went through 30 hours of labor and had an emergency C-section on her own at the Queen Mary Hospital, on Hong Kong Island.
"I felt lonely during long and painful labor hours … I just wanted someone to hold my hand and just be close. But they don't provide those services … I understand the concern for virus spread prevention, and no visits of family, but it's just unfortunate to have no support not only during delivery but anytime before or after. Plus, I can say that even if the staff is professional, you don't get warm words or advice on how to breathe during contractions, how to relax, how to cope with stress.
Kloub's husband met their baby girl, Aurora, on the street outside the hospital while he gave her some bags to take up to the ward.
CNN reached out to the Hong Kong Hospital Authority for comment but did not receive a response.
Although comparatively few cases of the novel coronavirus have been diagnosed in the US so far, the US Centers for Disease Control and Prevention aren't taking any chances.
Speaking to CNN's Chief Medical Correspondent Sanjay Gupta, CDC director Robert Redfield said that they were in "aggressive containment mode."
"We don't know a lot about this virus," he said. "This virus is probably with us beyond this season, beyond this year, and I think eventually the virus will find a foothold and we will get community-based transmission."
Currently, there is no known cure for the virus and, by slowing the disease's progression, Redfield said that the CDC has been given more time to work on one.
"The containment phase is really to give us more time. This virus will become a community virus at some point in time, this year or next year," Redfield said.
Redfield said that while there had been criticism on selected US travel bans in response to the virus, it was their first priority to "protect the American public."
"I would rather be criticized for over-protecting America than under-protecting America at this stage," he said.
Read more here.
Economies across China are suffering from the outbreak of novel coronavirus, which has shut down cities and left workers stuck at home for days or weeks.
In the Chinese special administrative region of Macao — the world's biggest gambling center — the government has announced it would hand out $275 million in vouchers to help try to boost the economy during the outbreak.
In a statement Thursday, the Macao government called on its citizens to spend up by sending every resident a $374 electronic voucher which can only be used in a three-month period.
It will also provide a $75 healthcare voucher for every Macao permanent resident, as well as discussing further tax cuts and housing subsidies.
Casinos hit: The virus has had a devastating impact on tourism in the gambling enclave, which relies heavily on mainland Chinese visitors. Gambling is illegal on the mainland and Lunar New Year is usually a particularly busy time for Macao's casinos. But not this year — tourism to Macao had dropped 73.6% year-on-year, the local government announced on January 29.
A total of 41 entertainment operations in the semiautonomous Chinese city were suspended for 15 days on February 4, according to the government. They include casinos, betting branches, theaters, cinemas, game centers, internet cafes, discos, bars, nightclubs, and dance halls.
There was good news this morning for hundreds of passengers who had previously been stuck onboard the Westerdam cruise ship in Southeast Asia.
According to tweets from the Holland America Line, some passengers today began to disembark from the Westerdam in Sihanoukville, Cambodia, met on the ground by Prime Minister Hun Sen.
The passengers had previously been unable to find a place to disembark the ship due to countries' fears of a coronavirus outbreak on board.
It was turned away by Thailand, Japan, Taiwan, and the Philippines. But it was announced Thursday that no cases have been found onboard after it docked in Cambodia.
According to Holland America, it will take some days to disembark all the passengers due to charter flight schedules.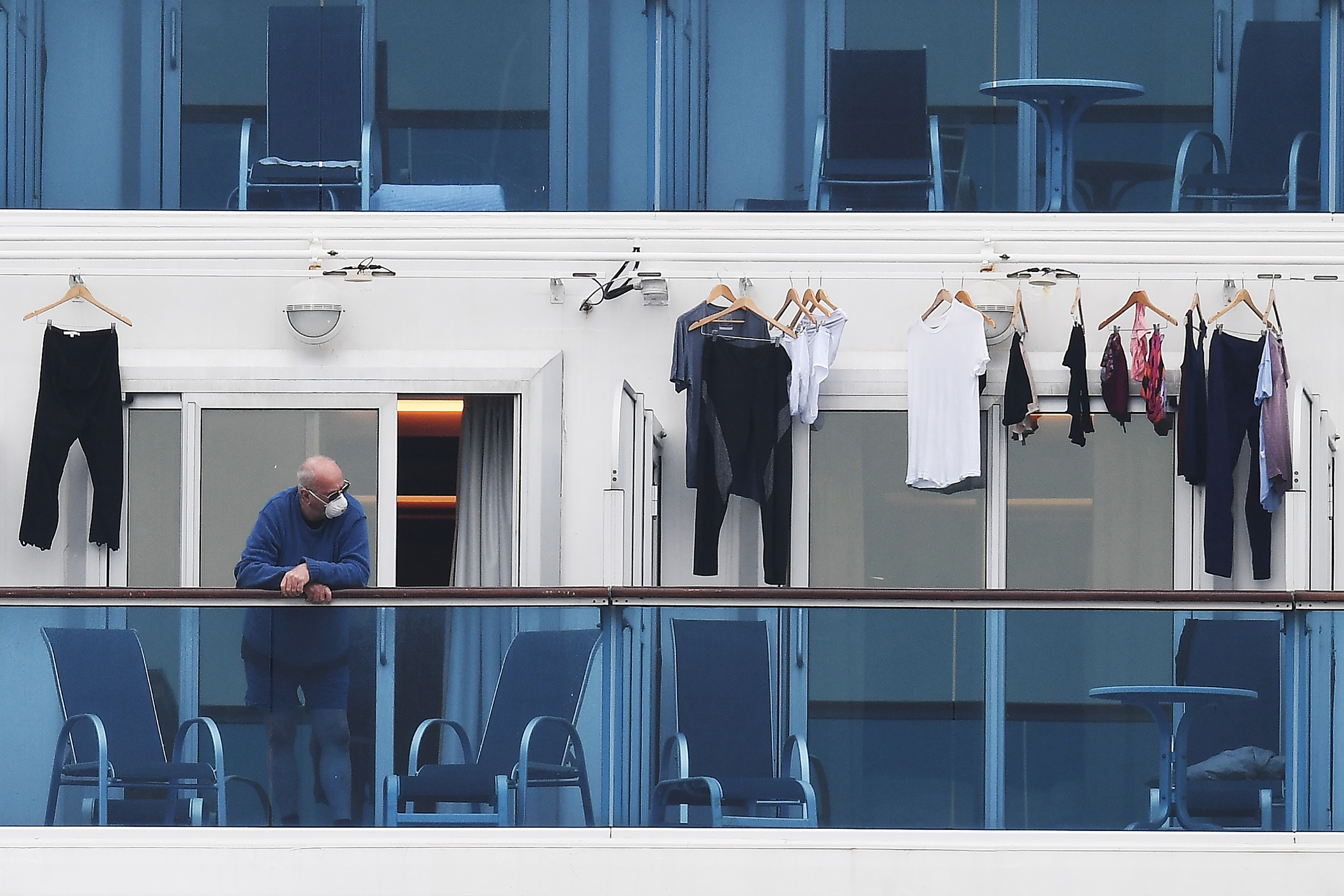 A passenger is seen on a balcony of the Diamond Princess cruise ship in Yokohama on February 14. Charly Triballeau/AFP/Getty Images
---
Stuck in quarantine: Meanwhile, off the coast of Yokohama, Japan, the wait continues for passengers on board the Diamond Princess, where 219 cases of the virus have been found so far.
According to authorities on the ship, more infections are expected to be discovered before the quarantine is lifted.
The ship is scheduled to stay under a 14-day quarantine until February 19.
New numbers from China's top health body revised down an earlier death toll from Hubei province after saying duplications had been found in "data collection and recording."
According to the National Health Commission, the current number of infections in mainland China is 63,851, up 5,090 from the day before, while the death toll has risen to 1,380.
In total, that brings the global total to at least 1,383 deaths and 64,435 confirmed infections.
Previous numbers released out of Hubei province this morning had suggested that the number of infected had climbed above 65,000 but Beijing now says that is incorrect.
Manchester United's newest signing Odion Ighalo is training away from the first team due to novel coronavirus concerns following his arrival from China.
Ighalo joined United on January 31 from the Chinese Super League side Shanghai Shenhua and although the risk posed is minimal — the city is hundreds of kilometers away from Hubei province which is at the epicenter of the coronavirus outbreak — the club has opted to take precautionary measures.
United also decided against taking Ighalo on its winter break training camp in Spain due to concerns he may have difficulty re-entering the UK.
Current medical guidelines advise people returning to the UK from certain countries, including China, to be quarantined for 14 days.
Read more here.
Hundreds of frontline medics in China likely infected with coronavirus
Ning Zhu, a nurse in Wuhan, the central Chinese city at the heart of the deadly coronavirus outbreak, is restless.
Instead of helping on the frontlines, she has been under self-quarantine at home for weeks, after a chest scan on January 26 revealed that she had a suspected case of the novel coronavirus.
Zhu was told to wait for a nucleic acid test that would provide the final verdict, but it never came.
"Right now, it's really a problem. Our hospital already has more than 100 people who are quarantined at home," she told CNN over the phone.
The Chinese health authorities have so far not disclosed the number of infections of health care workers. But accounts shared with CNN and seen on social media suggest that the extent of the infection could be in the high hundreds.
In Wuhan, there are 398 hospitals and nearly 6,000 community clinics.
Read the full article here.
"Please test us," quarantined US evacuees tell CDC
A group of US evacuees who were taken out of the coronavirus epicenter in Wuhan last week and are now in quarantine have petitioned the US Centers for Disease Control and Prevention (CDC) to test them as soon as possible.
The evacuees, who are currently at the Marine Corps Air Station Miramar in California, thanked the CDC for their support but asked to be tested to identify potential infections quickly.
"We believe testing everyone at the facility would help identify potential suspects as early as possible, so the appropriate treatment could be put in place," according to the petition, which is written in both Chinese and English.
Two people who were evacuated to Miramar have already been diagnosed with the virus and sent into isolation.
The CDC said that it is listening to the evacuees' concerns but testing people who are asymptomatic may provide a false negative.
"A false negative could provide a false sense of security," Christopher Braden, a CDC official who is with the evacuees in San Diego, said in a statement Thursday.
In a statement read out to the passengers of the quarantined Diamond Princess cruise ship, Japan's vice-minister for health, labor and welfare said the government appreciated their "understanding and cooperation."
Visiting the ship this morning, minister Gaku Hashimoto said that he knew the situation was "difficult and inconvenient."
"We also understand that there are many people who are hoping to go home as soon as possible, and people who have pre-existing medical conditions who are still on board," he said.
Additional cases expected onboard: So far there have been 219 cases of the coronavirus found onboard the Diamond Princess, the largest outbreak of the virus outside of mainland China.
Speaking to passengers Thursday, chief medical officer for cruise operator Princess Cruises Grant Tarling said that the quarantine was expected to end by February 19.
"However, as the situation is evolving daily, we do not know at this point what measures, if any, will be required before or after that date. We will keep you updated if or when we are informed of new information by the ministry," he said.
Tarling said additional cases were likely to be identified on board.
4 hr 55 min ago
Japan announces $140 million to combat the coronavirus
A series of emergency measures will be approved by Japanese Prime Minister Shinzo Abe Friday to combat the novel coronavirus, according to the prime minister's office.
The government will spend 15.3 billion yen ($140 million) on emergency measures, including bolstering testing and medical treatment capacity, doubling mask production to more than 600 million a month, and credits for small and medium-sized businesses hurt by the outbreak.
Another measure will call for 1,800 beds to be readied for patients and for virus research results to be shared internationally.
Biggest outbreak: The largest outbreak of the novel coronavirus outside mainland China is aboard the Diamond Princess cruise ship quarantined in Yokohama, which has reported 219 cases, including a Japanese quarantine officer.
Japan has reported a further 31 cases of the virus outside of the ship, bringing the national total to 250. A Japanese woman in her 80s has also died from the disease.
The number of new infections in Hubei — the central Chinese province at the epicenter of the outbreak — rose sharply for the second day in a row today after the government adopted a new way of calculating how cases are recorded.
The Hubei health authority recorded 4,823 new cases of the coronavirus on Thursday, more than double the 2,097 new cases announced Tuesday.
If you're just joining us, here's what you need to know …
Death toll rises: Out of the more than 36,719 patients still hospitalized in Hubei, 1,685 are in a critical condition. The global death toll rose today to 1,486.
Leadership shakeup: The spike in cases comes amid sweeping changes to top leadership positions in both Hubei and Wuhan.
The Communist Party chiefs of both Wuhan and Hubei were removed from their positions yesterday and replaced with officials from outside the province. Two Hubei health officials were also sacked earlier in the week.
Global infections mount: Both Singapore and Hong Kong now have more than 50 cases of the novel coronavirus, with the former announcing Thursday that it had diagnosed eight new cases.
The number of infections globally has now risen to more than 65,000.
Cruise ship situation is 'dynamic': There have now been 219 cases of the coronavirus found onboard the cruise liner Diamond Princess, which is in quarantine off the coast of Yokohama in Japan.
In a message to passengers, Grant Tarling, the chief medical officer of cruise operator Princess Cruises said the situation was still "very dynamic." "The Ministry of Health has notified us that the quarantine period of 14 days will end on February 19. However, as the situation is evolving daily, we do not know at this point what measures, if any, will be required before or after that date." he said.
The Hubei health authority has reported that 116 more people died of the coronavirus in Hubei province on Thursday, bringing the total number of deaths globally to at least 1,486.
The vast majority of the deaths are in mainland China, with only one death in Hong Kong, one in the Philippines and one in Japan.
China's National Health Commission is expected to release numbers for all of China's provinces later today.
Hubei authorities confirmed an additional 4,823 cases of the virus in Hubei, which brings the total number of cases in the epicenter of the outbreak to 51,986.
There are 36,719 patients who have been hospitalized in Hubei, including 1,685 who are in critical condition, according to the health authority. There are now 4,131 patients who have recovered and been discharged.
The global number of confirmed coronavirus cases has now exceeded 65,191.
A 39-year-old woman from China is the 19th person to be officially diagnosed with novel coronavirus in Malaysia, state news agency Bernama reported on Thursday.
She is a friend and relative of two of the previous cases and is currently in a stable condition in isolation, Bernama said.
According to the report, she arrived in Malaysia from Wuhan on January 25 with four other people.
There have been no deaths from the coronavirus to date in Malaysia.
---